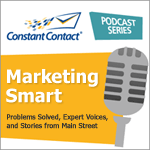 Marketing Smart Podcast Series
Expert perspectives. Proven best practices. Real-life experience.
Get practical advice on driving your small business or nonprofit's success – like how to use social media for small business. Tap into the real-world experiences of small business owners like you, and learn proven strategies from Constant Contact's own team of experts.
See how you can use Email Marketing, Online Survey, and EventSpot to grow your business or nonprofit today!
Latest Episode from Problems Solved!

How to Fuel Sales With Reviews
Encourage your customers to share their positive feedback. Heidi Tobias and Katharine Farrell discuss how small businesses can re-engage with their existing customers to make them active customers.Listen »
Podcast Series

Expert Voices
Our Constant Contact experts share proven online marketing strategies.
See all series titles »
Subscribe to series -
RSS

Problems Solved!
Tips and tricks for overcoming problems with winning solutions.
See all series titles »
Subscribe to series -
RSS

Stories from Main Street
Hear inspiring, real-world solutions from small businesses and nonprofits.
See all series titles »
Subscribe to series -
RSS